This year, the Gator experience comes at you with a new spin. With tailgating coming to a halt and a seating of only 20% capacity at The Swamp, students scramble to continue the classic traditions of a true Gator experience. Don't fear, because we got your back with a Gator's Game Day Playlist that brings the experience to you. Now you can enjoy the classic songs from the comfort of your home and continue the Gator traditions that make us who we are. Hype up for the big game this Saturday and more to come with this sweet Gator's Game Day Playlist!
We Are The Boys From Old Florida- The Fightin' Gator Marching Band
One of Florida's longest traditions still stands today, with the tune, "We Are the Boys." Typically, fans lock arms throughout the stadium and sway to the melody. This season will not be the one our tradition dies. We have a duty as Gators to hold onto this tradition as we can continue to metaphorically sway together. With our small group of friends celebrating the game, link arms and sway together to remind yourself of why we sway in the first place…we are family. Make sure to queue this one between the third and fourth quarter.
We are the boys from old Florida,
F-L-O-R-I-D-A.
Where the girls are the fairest,
The boys are the squarest
Of any old state down our way.
We are all strong for old Florida
Down where the old Gators play.
In all kinds of weather …
We'll all stick together…
For F-L-O-R-I-D-A.
I Won't Back Down- Tom Petty
The Gators began this new tradition in 2017 to honor Tom Petty's death. Not only was he a Gainesville native but a legendary rock star. In hopes to bring the school spirit alive, The Swamp played his song, "I Won't Back Down" April 17, 2020, on a Friday at noon. If you don't know this song, you're probably a baby gator. Tom Petty meant the world to the Gainesville community and gives us courage every day to strive for our potential. Honor him and the struggles you have overcome by playing this after "We Are The Boys."
Piano Man- Billy Joel
Every game day in the past, you will hear this masterpiece played at least once on fraternity row. We all remember running to Chi Phi on a Saturday afternoon at precisely 1 p.m to catch this tradition. As the song begins to play, the party goes silent. Gather your friends and enjoy the reunion of love together, like the good old days.
Dixieland Delight- Alabama
True Gators know this one. Granted, Alabama had this one first, but we still get a kick out of it. When it comes to this song, we have a job to yell the Crimson Tide lyrics in unison. This is our four years of college, make sure to spend them well and yell while you can. Turn up the music, grab a friend, and have a little fun with this one.
Thunderstruck- AC/DC
University of Florida Gators Offensive Lineman, Brett Heggie, recommended "Thunderstruck" as a "must listen to" game day song. From the start, you can already feel your figures tingle with the buzz of excitement. AC/DC gives you the same motivation and adrenaline the players get before running on the field. If you want to be connected to the game, you won't find a better way.
Sweet Caroline- Neil Diamond
As a girl from the city of Boston, a thrill came over me when I realized this song played regularly. At UF it seems like everyone has a soft spot in their heart for the oldies. A lot of people across the world know this classic and honor it as one. As soon as the song begins, fans sing their heart out with Neil Diamond. I hope you will continue to do the same this year with the Gators Game Day Playlist.
Mr. Brightside- The Killers
Throwback to the time when I (and I'm sure most of you) sat in the back of your mom's car as a child. You stared out the window waiting for "Mr. Brightside" to come on the radio. From day one, the lyrics rolled off your tongue and carried into today. In 2020, we connect our generations with this hit from 2004. What was once ahead of its time takes us back to the original pop days we know and love.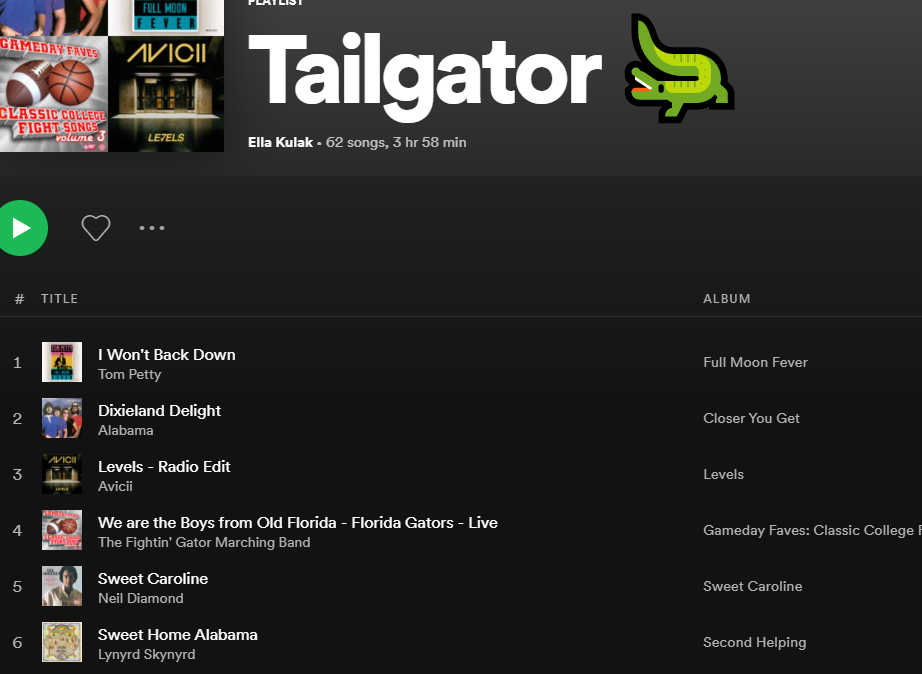 All I Do Is Win- DJ Khaled
Upon its release, "All I Do Is Win" took over almost every sports field and continues to live on. What song could be better than featuring the stars Snoop Dogg, Ludacris, Rick Ross, and T-Pain. A modern beat that hypes a crowd up before the game needed to make the playlist. Your group of friends craving to win will send the good vibes across Gainesville. If we all get hype enough, our energy could even reach The Swamp.
Remember the Name- Fort Minor
Saving the best for last, the Gator's name will be remembered after this Halloween home game. Though this season has had it's ups and downs (offense, I'm looking at you) they continue their fight. Fort Minor knew what he was doing when creating a powerful piece to emphasize team power. Make sure you hold your head high this weekend knowing that people will remember the Gators.