Donations:
Volunteer Florida:
The Florida Disaster Fund is the State of Florida's official private fund established to assist Florida's communities as they respond to and recover during times of emergency or disaster. In partnership with the public sector, private sector and other non-governmental organizations, the Florida Disaster Fund supports response and recovery activities.
Donations to the Florida Disaster Fund are made to the Volunteer Florida Foundation, a 509(a)(3) Type I charitable organization (EIN# 01-0973168), and are tax deductible. Up to 3%, however, no more than $30,000 is typically taken from each donation to cover administrative costs, including but not limited to staff salary, indirect costs and credit card and bank transaction fees. However, for Hurricane Ian, all administrative and credit card fees have been waived so that 100% of every donation can be used to help Floridians recover.
Please use the QR code below to donate.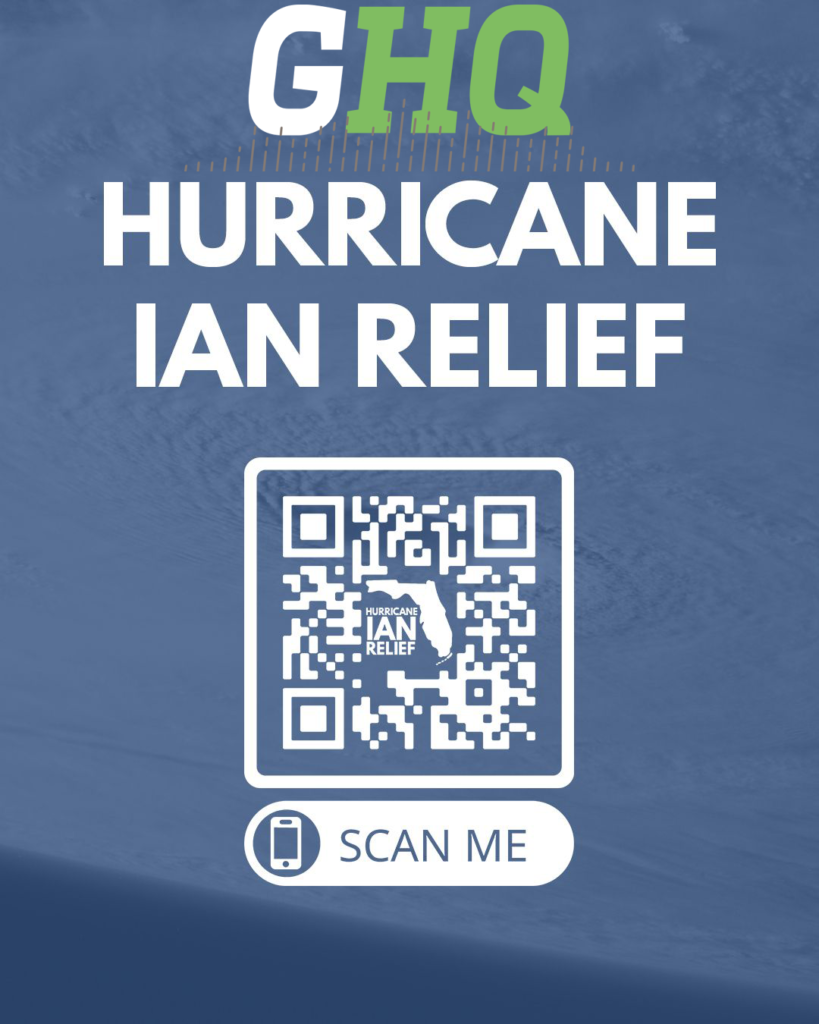 The Florida Disaster Fund distributes funds to service organizations that will serve individuals within their communities with disaster response and recovery.
If you prefer to donate by check, please make your check out to "Volunteer Florida Foundation" and include "Florida Disaster Fund" in the memo line. Checks can be mailed to:
Volunteer Florida Foundation
Attn: Florida Disaster Fund
1545 Raymond Diehl Road
Suite 250
Tallahassee, FL 32308
If you have any questions, please contact Volunteer Florida at 850-414-7400 or info@volunteerflorida.org.
Deeper Purpose Community Church in High Springs is collecting items to take down south to help those affected by Hurricane Ian. If you have supplies you would like to donate, feel free to drop them off on site from 1:00 – 3:00 p.m.
If you can't make it to High Springs Madison Hilgendorf, owner of Showroom Shine Mobile Detailing, says he will come to you.
"Even if you are located in High Springs and Gainesville, me and my fiancée, we will travel to come pick up any goods that you might be wanting to donate," Hilgendorf said. "I will be closing down my business actually for a week or two to participate. To use my truck and trailer to take supplies and donations that we are collecting throughout the week and weekend down to the less fortunate that was devastated by this hurricane," Hilgendorf said. With the help of volunteers, Hilgendorf plans to head down South October 6th.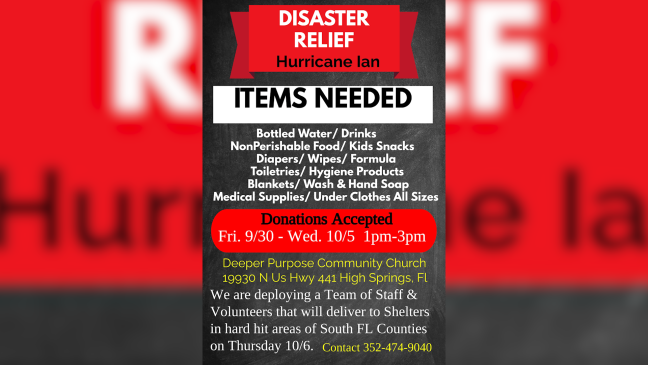 Santa Fe College Supply Drive:
Santa Fe College has started a supply drive to help the employees at the State College of Florida Manatee-Sarasota who lost everything from the wake of Hurricane Ian. Every Santa Fe Campus has drop-off locations for supplies. Santa Fe is taking the donations received down south next Monday. Right now they are collecting toothpaste, toothbrushes, paper towels, diapers, soap, socks, bleach, cleaning supplies, hand wipes, hairbrushes, T-shirts, flashlights, batteries, sunscreen, feminine products, deodorant, dog food, cat food, & tarps.
Volunteer Services:
Thousands of Floridians will need help rebuilding from Hurricane Ian. To contribute to the Florida Disaster to help those in need, visit http://FloridaDisasterFund.org or text DISASTER to 20222.
"At a press conference in Punta Gorda Thursday morning, Gov. Ron DeSantis discussed the response to the destruction. "This is going to be a 24-7 operation," DeSantis said. He said people have descended on Southwest Florida to help.
DeSantis said he doesn't want people to focus on donating material goods. "We don't necessarily need people to send us stuff," DeSantis said. "What we need is to be able to help those relief organizations help those folks."
He encouraged the public to make monetary donations to enable organizations to distribute supplies they already have. "Your financial contribution can make a world of difference," he said. Within the last 24 hours, people have donated more than $2 million to Florida hurricane relief efforts, DeSantis said.
Anyone who wants to pitch in financially can visit The Florida Disaster Fund website or text DISASTER to 20222. This official private state fund was established to provide financial assistance to communities dealing with the aftermath of Hurricane Ian. Florida First Lady Casey DeSantis announced the program's activation Wednesday.
DeSantis said she is seeing communities come together to help each other. "We just couldn't be more proud of what you have done to support your fellow Floridians," she said. Both the governor and his wife expressed how impressed they have been so far with recovery efforts and the resilience of residents affected by the hurricane.
The Red Cross is also accepting donations on its website. Red Cross representatives said they will provide food, supplies and shelter to those displaced by the storm. Other volunteer opportunities for people who want to help include the Red Cross Disaster Action Team and the Red Cross Disaster Mental Health team.
Ninety percent of the organization's workforce is made up of volunteers, according to the Red Cross website. To find Red Cross volunteer opportunities by ZIP code, click this link.
The Red Cross is also experiencing a blood shortage that has worsened following the hurricane. To donate blood, call 1-800-733-2767 or search for blood drives by ZIP code at this link.
Feeding Florida is a partner state association of Feeding America, the nation's leading hunger-relief organization. The organization is collaborating with its statewide network of food banks to provide food to hurricane victims. People can donate at a local food bank or make a monetary donation at this link." – Jessica Seldner shares with our sister station, WUFT.
FEMA
Know someone who has been affected by Hurricane Ian?
Individuals & Families can apply for @FEMA Assistance due to Hurricane Ian in the following Florida Counties Charlotte, Collier, DeSoto, Hardee, Hillsborough, Lee, Manatee, Pinellas, and Sarasota. You can register at https://disasterassistance.gov or by calling 1-800-621-3362.