Support what you love at UF!
Alright, Gators! High-Five! Last year, in a unified show of Gator goodness, thousands of University of Florida alumni, students, faculty, staff, friends and families set a UF record during Stand Up & Holler, Gator Nation Giving Day.
This year, on February 16, 2023, we are calling upon Gators everywhere to, once again, stand up for UF by making a gift of any size to the college, unit, research area or program that means the most to you.
Our goal this year is ambitious – 27,000 gifts in 24 hours – but we know the Gator Nation will step up to support UF's far-reaching work. And when you give to the area you care about most, you keep UF Top 5 strong!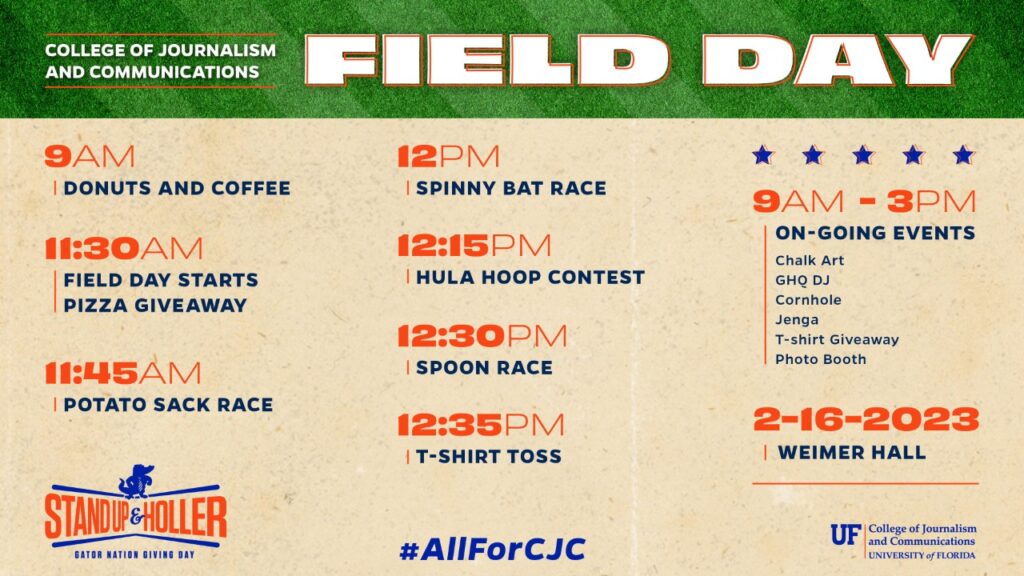 Can't make it to campus to make a donation? Donate here. Hot tip: if you can't decide which department you love the most, you can split your gift and give to multiple CJC departments in one transaction!
Thank you all for everything you do. Funds raised on Giving Day help us provide important experiences and support for our students and none of it would be possible without you. #AllForCJC